Events &Schutzhund kaleksic on 11 Nov 2009 04:54 pm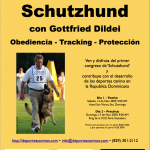 Obediencia – Tracking – Protección
Ven y disfruta del primer congreso de 'Schutzhund' y
contribuye con el desarrollo de los deportes canino en la Republica Dominicana
Dia 1 – Teoria:
Sabado, 14 de Nov. 2009, 9:00 AM
Hotel San Marco, Sto. Domingo
Dia 2 – Practica:
Domingo, 15 de Nov. 2009, 9:00 AM
Ring de la FCD, Feria Ganadera
Precio por persona con un perro RD$ 3500
y por persona sin perro RD$ 3000
IMPORTANT! Participants with dog
We have only space for 20 participants with dogs. The spaces are available on a first come-first served base. To make sure that you have your space, you need to register and pay a non-refundable deposit of RD$ 1000 as soon as possible. We can't guarantee that there will be any spaces left on Saturday.
For reservations please write to info@deportescaninos.com or call 1 (809) 301-2112
**Cupo válido para 20 personas con perros. Reserva tu cupo depositando RD$1000, llamando al (809) 301-2112 o escribiéndonos a info@deportescaninos.com
Leave a Reply
You must be logged in to post a comment.